We invite you to join the Coastal Crew!
WHERE ALL OUR HOURS ARE HAPPY HOURS
Coastal Beverage Company is a leading beverage distributor in North Carolina, and our cultural manifesto is simple: Integrity, adventure, and a life lived responsibly.
Craft it. Own it. Protect it. Celebrate it.
View our recruitment video below!
Find out all Coastal Beverage has to offer you as the next member of our Coastal Crew
Taking care of our regulars. Taking care of each other.
CBC values our people—and we work hard to provide a safe environment where diligence is rewarded with opportunity. Every member of our Coastal Crew helps us deliver happiness to our customers and community so that at the end of the day, every beverage wants to be a Coastal Beverage.
Our team of dreamers, doers, innovators, and collaborators is growing by the day. If you're looking to be part of a highly innovative team, fully committed to doing great things for the CBC brand and our community, you will be a perfect fit for the Coastal Crew. Cheers to your future!
What our employees have to say:
At CBC, people come together to get things done. It starts at the top with one of my favorite mentors—Tee Nunnelee. He's always out there with the crew—even on holidays—working hands-on right beside us. It's a tough business, but staying knowledgeable and working hard always pays off.
I love working for a family-owned business. I know I'm not a number, and that is meaningful to me.
Working in the beer industry is thrilling to me. As I began, I felt like it was an 'in' job and loved everything about the fast-paced environment. Today, I still love the family atmosphere, and I feel like the company is always investing in me—spending the time to train me right and support my personal growth. At CBC, your concerns matter.
Before I applied, my friend Bernard told me I had to come to CBC because of the great working environment—and he was right. I love CBC, and I love the way my managers care about me.
I've stayed with CBC for so long because I love my job. I love the people I work with, I love the long-term relationships I have developed with my customers, and I have loved watching the growth of Coastal over the years. I can't imagine being anywhere else.
CBC brands are first-class, top-notch, and world-renowned—and it's impressive. I feel honored to be responsible for these brands out in the market and excited to represent them every day.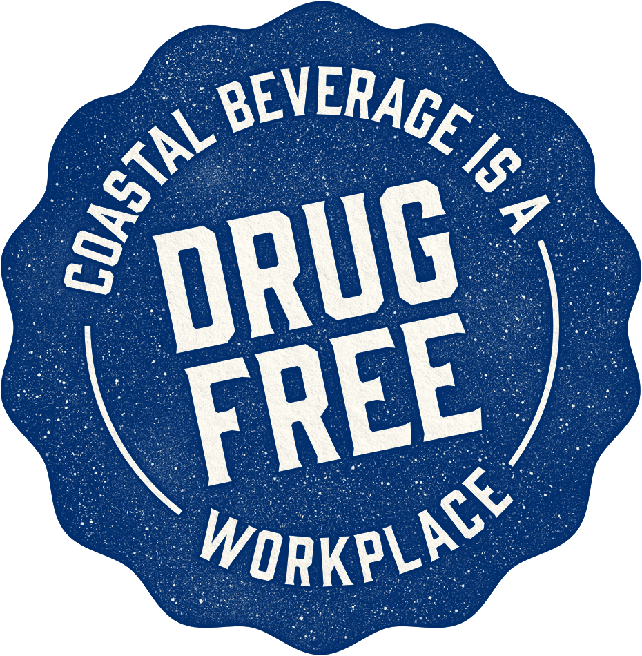 WE DELIVER HAPPINESS | COASTAL FUN FACTS
Experience counts.
CBC, a family-owned company, was started in 1960. We're a North Carolina tradition.
Work here + Work out.
Our Wilmington center has it all—a gym, plus pickle ball, tennis, and basketball courts.
Only the best for our drivers.
CBC is constantly investing in our truck fleet for excellence in comfort and safety.
Flexibility matters.
Ask about our four-day work weeks for certain jobs. Work hard + play hard.
Disability Accommodation for Applicants
Applicants Rights under Federal Employment Laws
Notice of E-Verify Participation
FAQ
Frequently Asked Questions
How do I find a position?
How do I apply for a position?
When you first register to apply online, you'll be asked to provide your name and email address and then create a user ID and password. We encourage you to use your personal email address as your user ID. Keep track of your information provided. This will streamline your application process and allow you to apply for current and future openings with ease.
Can I submit my resume without applying for a position?
Can I fax or email my resume to you?
What if I can't get my application to submit properly?
Make sure you have entirely completed all required application fields. If you are receiving any other error messages, refresh your browser and resubmit your application. When your application has been successfully submitted, the screen will say "Thank you for your submittal." You may also view your successfully submitted applications by clicking on the drop-down menu next to your name. See "Application History" to confirm your submissions.
How can I check the status of my application?
To confirm your application submission, click on any open position, then click "Apply" to log in to our Career Center. Click on the drop-down menu next to your name and select "Job History."
Will I hear back from a recruiter?
Due to the high volume of applications received, it is not practical for our recruiters to contact all applicants. A recruiter may contact you if your background and skills best match a position's requirements. You may also be contacted for additional information or clarification. If you are not contacted after applying for a job, you may wish to browse more career opportunities on our website. www.coastal-bev.com/careers
Will I receive a response after I submit my application?
When your application has been successfully submitted, the screen will say "Thank you for your submittal." You may also click on the drop-down menu next to your name and select "Job History" to view your application submissions.
What happens to my application after I submit it?
Submitted applications enter our tracking system. This system provides us with talent pools and serves as a source for our recruiters to identify candidates for specific job openings.
Will I be considered for other positions when applying for a specific position?
We recommend that you apply directly for each position that interests you. However, it's possible that we may consider you for other positions if your qualifications fit other job requirements.
What if I forget my user ID or password to my account?
If you forget your user ID or password, click on the "Forgot Your User ID?" or "Forgot Your Password?" link, and you will be prompted to answer your security questions and/or provide your email address.
How do I change or update my contact information on my application?
Click on any open position, then click "Apply" to return to our Career Center. You may log in and update your contact information by clicking on the drop-down menu next to your name. Click on "My Profile" to update your contact information.